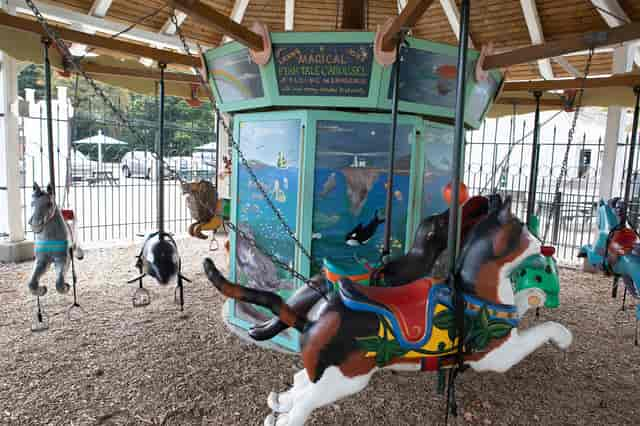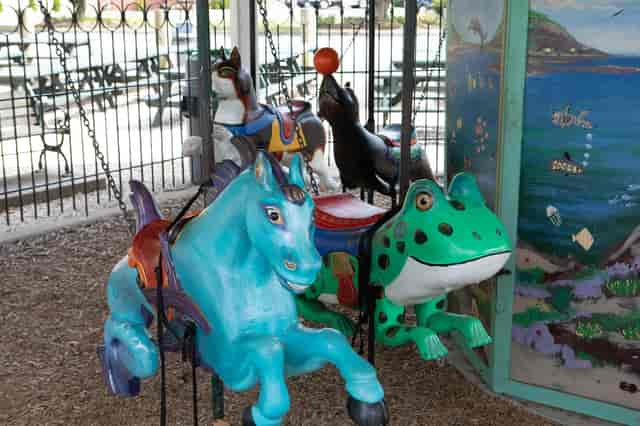 Charity Carousel
THANKS FOR SUPPORTING ALL OF THE GREAT ORGANIZATIONS AND NON-PROFITS THAT BENEFIT FROM THE CAROUSEL!
SADLY...... IT IS NOT CERTAIN THAT THE CHARITY CAROUSEL WILL BE ABLE TO OPEN DURING SUMMER 2020 BECAUSE OF THE COVID VIRUS.
WATCH THIS PAGE FOR UPDATES
Lenny & Joe's Magical Charity Carousel Hours
Carousel 2020 Hours:

AS OF MID MAY, IT IS NOT CERTAIN THAT THE CHARITY CAROUSEL WILL BE ABLE TO OPEN DURING SUMMER 2020 BECAUSE OF THE COVID VIRUS.
WATCH THIS PAGE FOR UPDATES

The Carousel is located at our Lenny & Joe's Fish Tale Drive-In at 1301 Boston Post Road in Madison, CT. It was a gift to the community to celebrate the 20th Anniversary of Lenny & Joe's Fish Tale. It was the first new, all-wooden Dentzel Carousel installed East of the Mississippi in over 70 years. It is surrounded by a hand crafted wrough-iron fence. The Carousel was delivered in early May of 1999.

It is called a "flying Menagerie for Charity" because all proceeds from the Carousel are donated to local charitable causes and organizations. There is a $1.50 charge to ride the Carousel, but 100% of it goes to these charitable causes. Both of the Lenny & Joe's Fish Tales absorbed the cost of the Carousel, all of the site improvements and pay the yearly operational and maintenance expenses. Certain periods of time are designated for specific charities. Revenues raised during these periods will be donated to that particular cause. At other times, the money goes into a general fund, so that other charities can be supported throughout the year and as needs arise. Our 20 Year Total is now over $1.1 MILLION DOLLARS!

Our Carousel is a 20-foot diameter stationary, 10 rider, all wooden, handmade carousel. It is operated by an electric motor. The Carousel is a real "flying horse" type of carousel. The animals are attached from sweeps on the top, and swing and fly through the air! The menagerie animals include: Hippocampus, Frog, Giraffe, Lion, Horse, Cat, Seal, Orca and a Double Lobster Chariot. Riders can enjoy trying to 'Catch the Brass Ring" from one of the two traditional ring catching devices. Small lights accent the carousel and a CD player provides traditional merry go round music.

All of the animals were hand carved by Bill Dentzel. They were made of Basswood, using traditional hollow box construction. Each animal was a unique Dentzel design! Donna Wolcott, a local professional Carousel painter and restorer, painted most of the carousel animals. She also has been maintaining and touching up the animals every Spring. The beautiful wildlife birds were painted by James Spring, from Burlington, Iowa

Thank you for your support of our Carousel and the Charities and Organizations that it supports.The Carousel operates from May to early October.